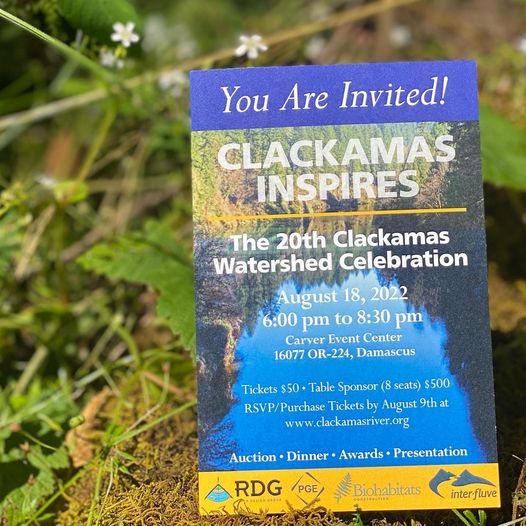 Thank you to all who participated!
The Clackamas River Basin Council recently hosted our 20th Annual Clackamas Watershed Celebration and we are so grateful to all those who participated!
Proceeds from the Clackamas Watershed Celebration support the CRBC's work to further our mission protecting and restoring the Clackamas watershed for fish, wildlife and people.
About the 20th Annual Watershed Celebration
Over 100 of our partners, friends and supporters gathered at the Carver Event Center on August 18th, 2022 to celebrate restoration activity here in the Clackamas basin. Our 2022 theme was "Clackamas Inspires", and we highlighted the importance of restoration activity from an ecological and cultural perspective. Restoration is important for the health of our watershed, water quality and habitats, but is is also important for our arts, culture and way of life.
Guests enjoyed dinner, beverages, and a silent auction throughout the evening. But this year we had something special – an art experience!
Video Presentation
CRBC staff created a video presentation for the Watershed Celebration to share projects from the previous year and perspectives from local artists.
We thank Bobby Mercier with the Confederated Tribes of Grand Ronde, Danica Glazier of Happy Valley, and Earlean Marsh – a CRBC Board Member and artist at Spiral Gallery for interviewing with CRBC for this video presentation. We also thank CRBC Board President Todd Bartlett for narrating this video.
Clackamas Inspires Art Experience by David Andersen
We wanted to give guests the opportunity to contribute to an art experience, express their creativity, and build something beautiful together. CRBC Board Member David Andersen donated his time, supplies, and expertise and led guests through an art project recreating a piece he painted. David scanned a painting he made for this project and cut the scanned copy into small squares. Each attendee then received one of these squares along with a larger blank square and a set of pastels. Then, they got to work blowing their smaller square up by hand onto their larger square. Each larger square was then added to a board – see photos below!
Photos from the evening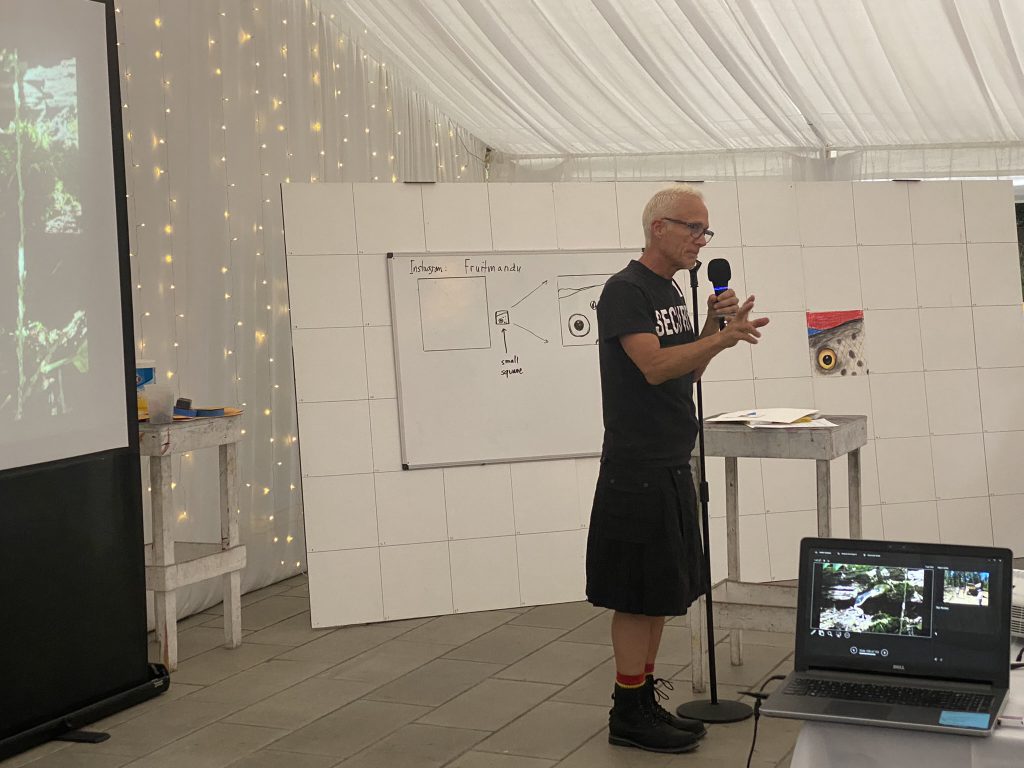 Interested in future events?
Interested in future events?
Check out upcoming events here: https://clackamasriver.org/events/