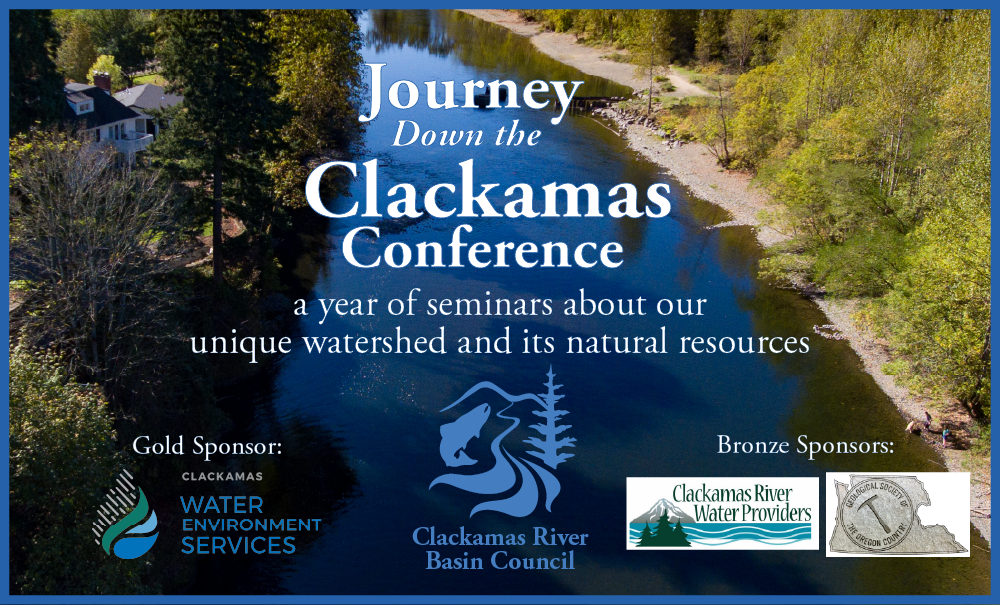 The Clackamas River Basin Council is proud to present the "Journey Down the Clackamas" Conference, a year-long series of seminars on the resources of the Clackamas River basin.
Weíve gathered together an impressive array of engineers, scientists, political leaders, agency officials, educators and others to share their expertise about the Clackamas River basin, including some of the latest research occurring within its boundaries.
In a year-long program of 33 presentations, weíll cover everything about the river, from its birth on 7,218-foot high Olallie Butte to its confluence with the Willamette River, 83 miles away. Our guest presenters will explain geology, hydrology, water quality, forestry, agriculture, fish, wildlife, recreation, history, indigenous culture, and public policy.
CRBC is partnering with the Environmental Learning Center at Clackamas Community College (CCC) so that many of the sessions may also qualify for Professional Development Hours. Workshop attendees may receive CCC Continuing Education Units, and can also request a signed Certificate of Completion for each session.
Clackamas River Basin Council Executive Director, Cheryl McGinnis, and Council Member David Bugni will host the first session on Tuesday, March 9. Their presentation will give an overview of the Clackamas River Basin.
"For the first time ever, a series of webinars intended for a general audience is being presented about key aspects of the Clackamas River basin," Bugni said. "This is long overdue for what is arguably the most unique, major river basin in Oregon – in terms of the diversity of uses."
Presentations will take place on Zoom and will run every other Tuesday from March 9 through May 22 of 2022. Recordings of each session will be uploaded to the CRBC Youtube channel. The conference is free for everyone to attend thanks to Gold Sponsor Clackamas Water Environment Services and Bronze Sponsor Clackamas River Water Providers, along with other generous donors.
To see a full list of classes and to register, please visit our website at https://clackamasriver.org/journey-down-the-clackamas-conference/