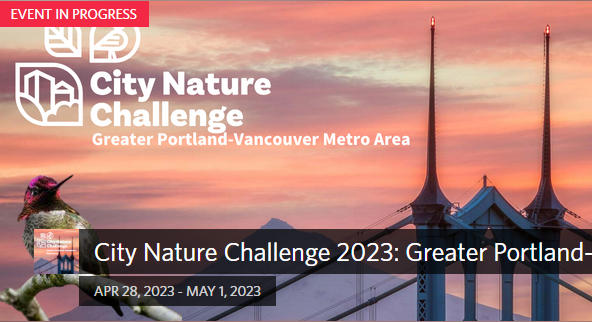 Community science for all!
Starting today, April 28, until Sunday, May 1, 2023, Oregon will join more than 400 global cities for the City Nature Challenge. This annual competition encourages all to observe and record as many plant, fungi and wildlife species around you as you can. Take observations at home, at school, your local park or at work!
Participating in the City Nature Challenge is easy:
Join the City Nature Challenge project on iNaturalist, an app that helps you identify individual species around you and connect with other nature enthusiasts, scientists and naturalists: https://www.inaturalist.org/projects/city-nature-challenge-2023-greater-portland-vancouver-metro-area
Find plants, animals, and fungi
Take a picture!
Share your observations through the iNaturalist app, you can record your observation under the City Nature Challenge Program – *If you do not have an iNaturalist project nearby, have no fear! It is not necessary to contribute to a project.
Why participate in the City Nature Challenge?
In iNaturalist's words, "One of the world's most popular nature apps, iNaturalist helps you identify the plants and animals around you. Get connected with a community of over a million scientists and naturalists who can help you learn more about nature! What's more, by recording and sharing your observations, you'll create research quality data for scientists working to better understand and protect nature."