The 2022 Down the River Clean Up is Sunday, September 11
Click here to register:
https://www.eventbrite.com/cc/2022-down-the-river-cleanup-september-11-2022-366899
The Down the River Clean Up is the largest and longest-running on-water cleanup event of its kind in Oregon, co-hosted by the Clackamas River Basin Council and We Love Clean Rivers.
Over 300 volunteers rally together in rafts, kayaks, and SCUBA gear, collecting an average of 1-3 tons each year, over half of which is recycled.
Since 2003, over 44 total tons of garbage has been removed from the Clackamas River.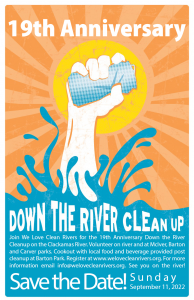 The event includes a trash sweep of a 20+ mile stretch of the Clackamas River from Estacada to the confluence with the Willamette River in Oregon City.
We invite community members to come float and fill the boat! Keeping the Clackamas clean will help preserve and protect the health of this beautiful and bountiful river that provides fresh drinking water to thousands of Oregonians and is home to old-growth forests, endangered species, and one of the last remaining wild salmon runs in the lower Columbia Basin.
All non-motorized paddle crafts may participate and launch at one of four parks: Milo McIver State Park, Barton Park, Carver Boat Ramp, and Riverside Park. Boaters must have Class II+ whitewater experience and wear a life jacket. On-water and on-land volunteer opportunities are available. snorkelers and SCUBA divers are also welcome.
THANK YOU to our past sponsors and partners:
Adventures Without Limits
American Canoe Association
AMR River Rescue Program
Association of Northwest Steelheaders
City of Oregon City
Clackamas County
Clackamas County Sheriff's Office
Clackamas County Water Environment Services
Clackamas River Outfitters
Clackamas River Trout Unlimited
Clackamas River Water Providers
Clackamas Soil and Water Conservation District
Danner
eNRG Kayaking
Goodwater Boat Works
Growler Run
Happy Mountain Kombucha
KEEN
Maravia
Mark Gamba Photography
Metro
Natural High Rafting
New Seasons Happy Valley
NRS
Oregon City Brewing Company
Oregon Council of Trout Unlimited
Oregon Parks and Recreation Department
Oregon Watershed Enhancement Board
Orion Coolers
Portland Winterhawks
SOLVE
Watershed Drybags