Gardening for Wildlife: Naturescaping Fundamentals Class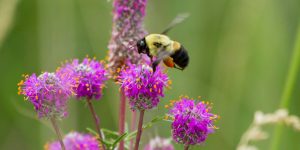 Our Gardening for Wildlife – Naturescaping Fundamentals class will be held at the Environmental Learning Center at Clackamas Community Center on Saturday, April 13, 2019 from 9 AM to 1 PM.
Learn how to create wildlife-friendly spaces in your own yard or community area by incorporating native plants and wildlife habitat components. Attract beneficial insects and pollinators utilizing naturescaping design tips. Learn about rain gardens and gain recognition for sustainable gardening practices through local certification programs.
Sign up for this four hour class:
Date: Saturday, April 13th from 9 AM to 1 PM
Location: Lakeside Hall Environmental Learning Center at Clackamas Community College
To Register go to: https://www.clackamas.edu/academics/skills-development-training/workshops
For more information: Contact us at 503.303.4372 or info@clackamasriver.org
This class is presented through a partnership with: Clackamas County Soil and Water Conservation District, Clackamas River Basin Council, National Wildlife Federation, Backyard Habitat Certification Program and hosted by Clackamas Community College Environmental Learning Center.
Photos: courtesy NPS Photo by Erin Anfinson and skeeze from Pixabay