Cover Crop Field Day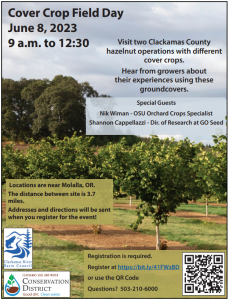 Join CRBC and the Clackamas Soil and Water Conservation District for the Cover Crop Field Day!
There are many benefits to adding cover crop to your orchard management plan. Our Cover Crop Field Day will give you the opportunity to see cover crop in action. Field Day attendees will get to visit two Clackamas County hazelnut operations using two different types of cover crop.
Hear from the Experts
Our two hazelnut orchard growers are experts on their own land. People who join us on the field day will get to hear first hand about their experiences using these ground covers.
We'll also get a chance to hear from our two special guest speakers. Nik Wiman, OUS Orchard Crops Specialist, will be on hand. We'll also be joined by Shannon Cappellazi. She is the Director of Research at GO Seed.