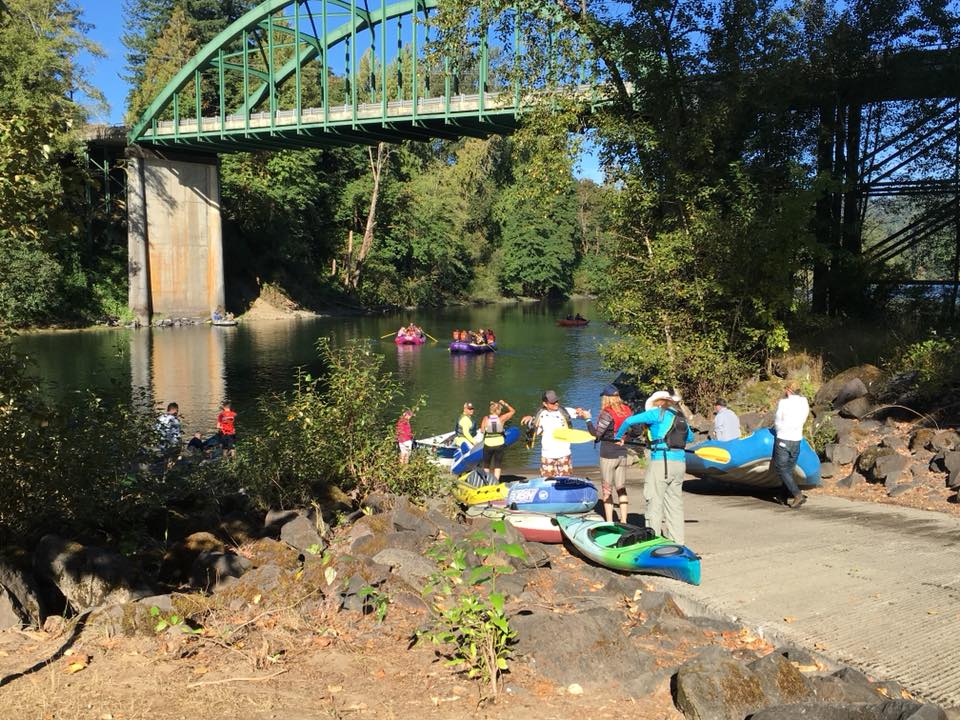 How Clean Can A River Get? Let's Find Out.
Annual Down the River Cleanup on the Clackamas will be held September 10, 2023.
CLACKAMAS RIVER, OR – Volunteers are encouraged to join the Down the River Cleanup on September 10th, 2023 and help clean a 22-mile section of the Clackamas River from Estacada to confluence with the Willamette River in Oregon City. Each year around 200 volunteers rally together in rafts, kayaks, SCUBA gear, masks and snorkels, drift boats and any other safe vessel to scour the stream bed and banks for trash. An average of 2 tons of litter is pulled on this one day from the most popular section of the nationally designated Wild and Scenic Clackamas River.
How it works: The event offers both on-land and on-water volunteer opportunities. On-land volunteers include the Riparian Lovers who pick a park (Milo McIver, Barton Park, Carver Park, or Riverside Park) and clean around the boat docks. On-water volunteers choose between four sections; Milo McIver to Barton Park, Barton Park to Carver Park, Carver Park to Riverside Park or Riverside Park to Clackamette Park. Cleanup pods leave their docks at the same time from each park and float the river as a group as they clean. When they arrive at their take-out they sort their collected trash and recycling in the provided bins.
After the cleanup, all volunteers are invited to Barton Park at 2 PM for a free cookout with beverages and partner booths. All cleaning supplies are provided including trash and recycling bags, gloves, and trash grabbers. Volunteers must bring their own reusable water bottle, personal floatation device (PFD), and water craft if volunteering to be on-water. Volunteers must also arrange their own shuttle.
While the Down the River Cleanup is a stewardship event, volunteers should expect to have fun! Over 90% of the time is spent floating, paddling, and enjoying the splendor and beauty of the Clackamas River.
Registration is live at www.WeLoveCleanRivers.org.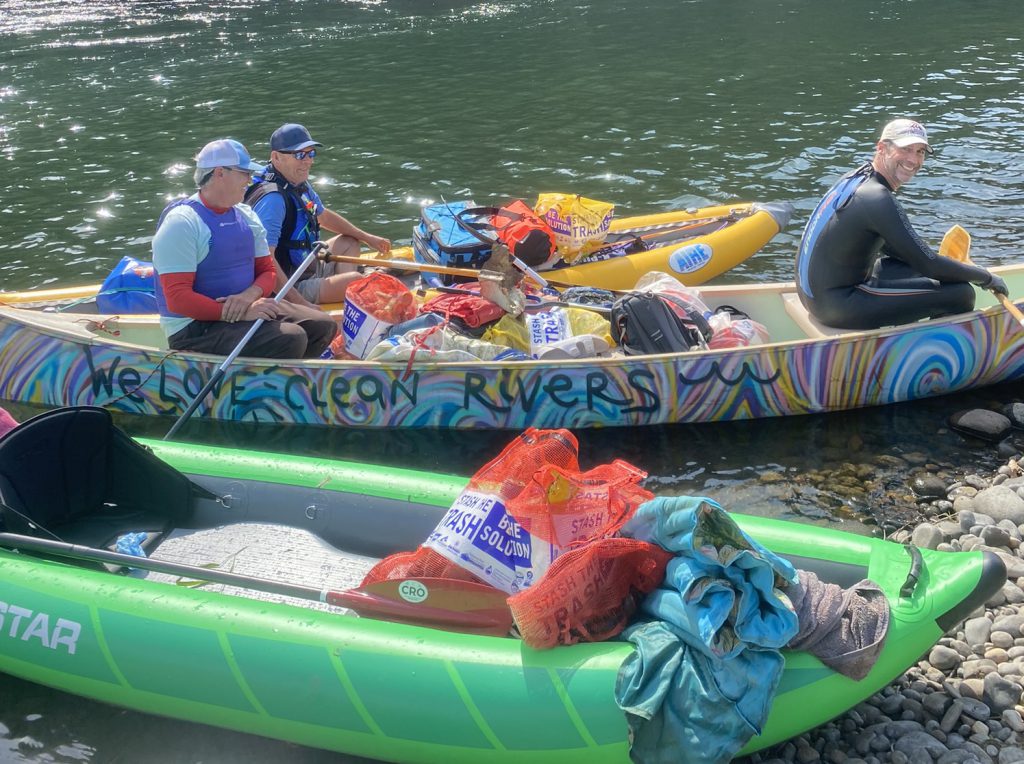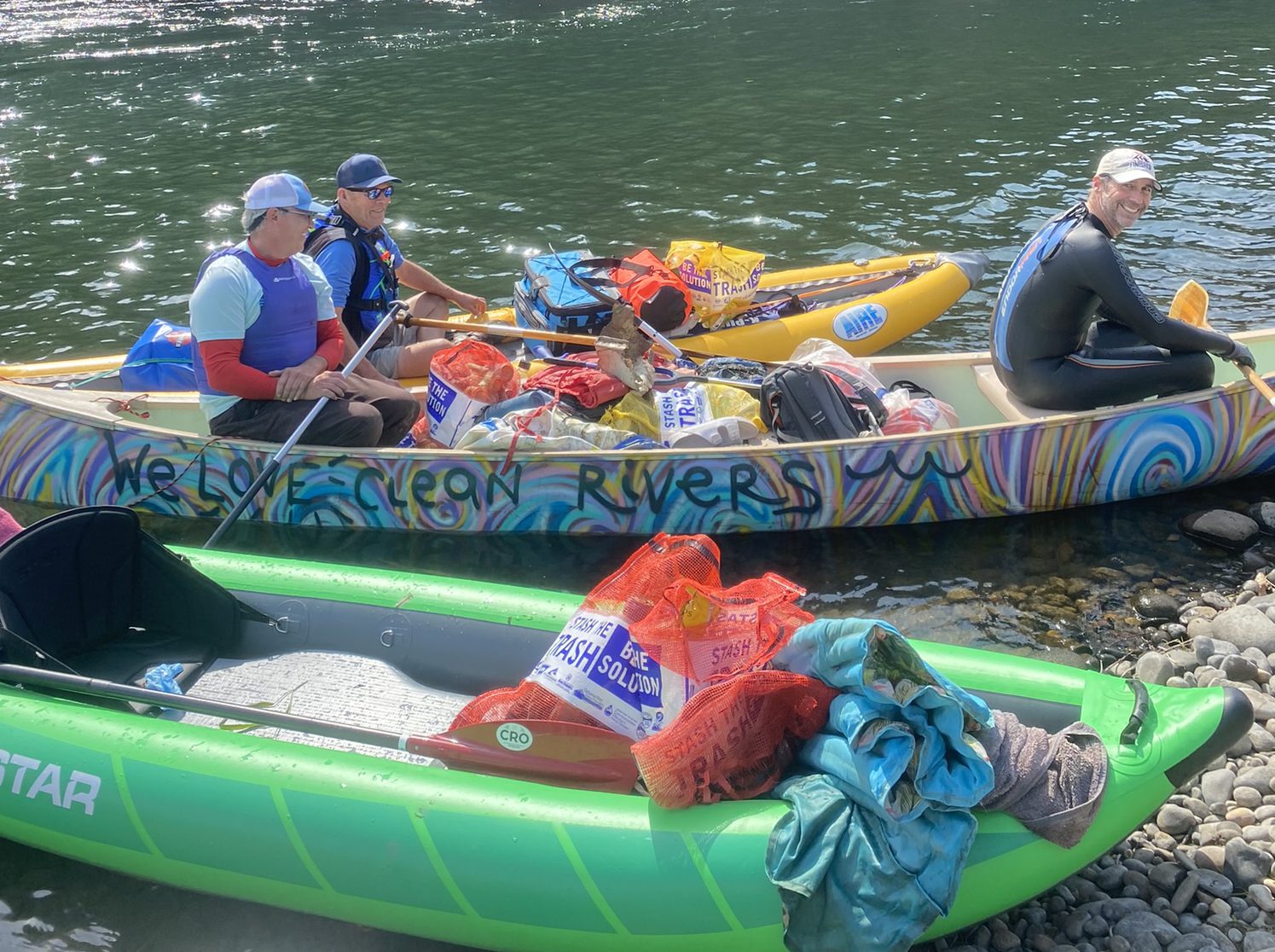 The Clackamas Down the River Cleanup is the largest and longest-running on-water cleanup event of its kind in Oregon. Since 2003, over 41 tons of garbage — well over the approximate weight of one gray whale — has been removed from the Clackamas River by more than 4,550 volunteers.
This inclusive event provides the community with a direct connection to their most precious natural resource – water!
The Down the River Cleanup is organized and hosted by the Clackamas River Basin Council and We Love Clean Rivers. Sponsors and event partners include Portland Metro, Tigard Water District, Clackamas River Water Providers, Water Environment Services, eNRG Kayaking, Warn Employee Community Impact Project, Portland General Electric, City of Oregon City, Waste Management of Oregon, Inc., Oregon City Garbage Co, Inc., KB Recycling, Inc., and Clackamas County Transportation & Development, Sustainability and Solid Waste.
The Clackamas River Basin Council, a 501(c)(3) nonprofit, fosters partnerships for clean water and to improve fish and wildlife habitat and the quality of life for those who live, work and recreate in the watershed.
For more information, interviews or live coverage, contact Amy Barton at amy@clackamasriver.org or 503-303-4372 x 101.