Clackamas River Basin Council Annual Celebration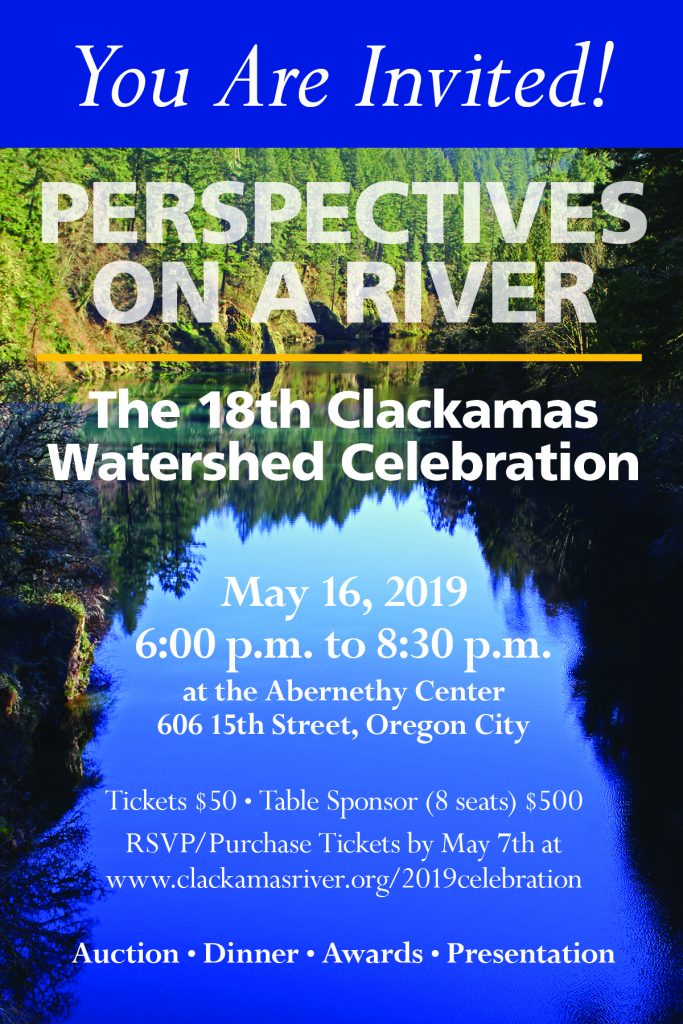 Please join us for the 18th Annual Clackamas Watershed Celebration. This year we explore a variety of perspectives on the watershed, including 4 recent major projects. We'll hear from a variety river users, from whitewater paddlers, woodlot owners, farmers, fish biologists and weekend recreational users.
Our keynote speaker will be Curt Melcher, Director of the Oregon Department of Fish and Wildlife. Mr. Melcher is a native Oregonian and has been with the Oregon Department of Fish and Wildlife for 28 years. He started his career as a district biologist before serving as deputy director and now as director of the agency.
Date: May 16, 2019 from
Time: 6:00 p.m. to 8:30 p.m.
Location: Abernethy Center located at 606 15th Street, Oregon City, OR 97045.
Tickets are $50 each, with an encouraged additional donation of $15 (tax-deductible).
For $500, you can secure a table of 8 for you and your family, friends, or colleagues. Table sponsors will receive:
Recognition in our event program
Recognition during the slide presentation
A table for eight individuals at the event, with their logo/company name recognized at the table
Recognition on the CRBC Facebook page
Recognition in our end of year donor recognition in the January newsletter
Come out and join us to support our restoration and conservation work in the Clackamas River Basin. More info at clackamasriver.org/2019celebration
The night will include a silent auction, dinner, drinks, awards, and presentation.
RSVP by May 7th!
Tickets can also be purchased via check.
Contact Pat Kaczmarek at pat@clackamasriver.org or (503) 303-4372 with any questions.