The 2019 Annual Celebration is a wrap!
Thank you to our amazing sponsors for the The 18th Annual Clackamas Watershed Celebration. Your support was key in making this a successful event!
We heard from a variety river users, from whitewater paddlers, woodlot owners, fish biologists and weekend recreational users. Our keynote speaker was Curt Melcher, Director of the Oregon Department of Fish and Wildlife. Exciting presentations, good food and great conversations made this an evening to remember.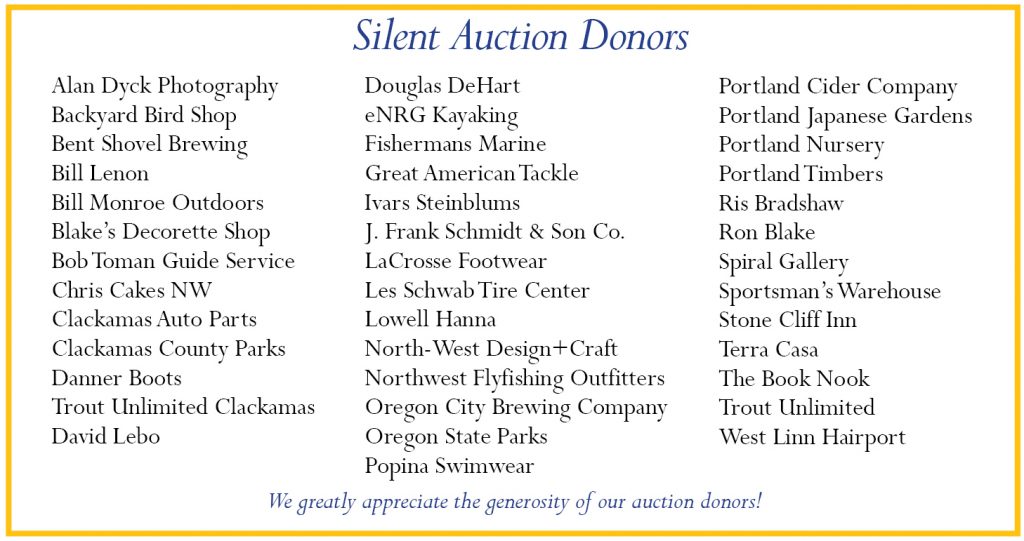 The many local businesses, agencies and individuals who donated unique gifts and extraordinary experiences provided the opportunity for CRBC to raise more than $5000 during our Silent Auction to support the mission of the Clackamas River Basin Council!
For more information, contact Pat Kaczmarek at pat@clackamasriver.org
Monthly Council Meeting
The Clackamas River Basin Council hosts monthly Council Meetings the third Thursday of every month from 6:00-8:30 pm at the Mt. Scott Fire Station in Happy Valley (9339 SE Causey Ave. Happy Valley, OR 97086). These meetings are open to the public and community members are encouraged to attend!
Please RSVP with Cheryl at cheryl@clackamasriver.org or call 503-303-4372 x100. Meeting agendas and minutes are available by request or can be found below. Also let us know if you would like to receive monthly meeting agendas by email.
Upcoming Council Meetings
2019 Council Meetings
January 17 – Agenda/Minutes
February 21 – Agenda/Minutes
March 21 – Agenda/Minutes
April 18 – Agenda/Minutes
May 16 – Annual Watershed Celebration
June 20 – Agenda
July 18
August 15
September 19
October 17
November 21
December 19
2018 Council Meetings
January 18 – Council Retreat
February 15 – Agenda  Minutes
March 15 – Agenda Minutes
April 19 – Agenda Minutes
May 17 – Annual Watershed Celebration
June 21 – Agenda Minutes
July 19 – Agenda Minutes
August 16 – Agenda Minutes
September 20 – Agenda Minutes
October 18 – Agenda Minutes
November 15 – Agenda Minutes
December 13*- Agenda Minutes
*Please note that this is the second Thursday of December. 
Calendar
<<
Jun 2019
>>
Mon
Tue
Wed
Thu
Fri
Sat
Sun
27
28
29
30
31
1
2
3
4
5
6
7
8
9
10
11
12
13
14
15
16
17
18
19
20
21
22
23
24
25
26
27
28
29
30